History of CRJ
History of CRJ
Founded in 1950
THE EARLY YEARS (1950-1970)
In 1948, a Liberal Jewish Fellowship was organized in Orlando, using visiting rabbis for High Holy Day services and other life-cycle events.
In 1950, this group chose the name "Temple of Liberal Judaism," began planning for a building, located in downtown Orlando at Ferncreek Avenue and Robinson Street and joined the Union of American Hebrew Congregations. In 1952 the named changed from "Temple" to "Congregation" of Liberal Judaism and its membership was at 44 families and dues started at $65 per year.
In 1953, Rabbi David Susskind of Cleveland, Ohio, was hired as the congregation's first rabbi. That year, CLJ held its first confirmation (with two students), first wedding and first bar mitzvah. Rabbi Susskind he left for St. Petersburg in 1956 and was replaced by Rabbi Henry Leon Shwartz. By 1958, membership had more than doubled to 107 families and Rabbi Shwartz's resignation in 1962, brought Rabbi Benno Wallach to the pulpit. In 1963 with increasing membership to 165 families land was acquired for the synagogue's present site, at 928 Malone Drive. The building was completed in 1970, and at that time, Rabbi Larry Halpern became the new rabbi.
THE MIDDLE YEARS (1971-1996)
Rabbi Halpern would lead the congregation for the next 25 years.
By the time CLJ approached its 25th anniversary in the mid-1970s, membership had grown to 320 families. As the congregation grew, so did CLJ's building. A formal sanctuary and mini sanctuary was completed in 1982. In 1986, four more classrooms where added to the original eight. CLJ also added a media center. During that time, Cantor Harold Dworkin served as the congregation's cantor. The media center that he envisioned and helped create is now named the Cantor Harold Dworkin Learning Resource Center.
Rabbi Halpern resigned on June 30, 1996 and Rabbi Selig Salkowitz became the interim rabbi at CLJ, and a search began for a permanent senior rabbi.
THE RECENT YEARS (1997-TODAY)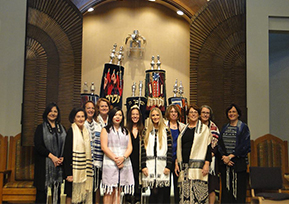 In June of 1997, Rabbi Steven Engel became the congregation's fifth senior rabbi. By the year 2000, the congregation had grown to approximately 600 families. The staff also continued to grow, with the addition of a full-time director of education, an administrator and in 2002 Jacqueline Rawiszer became the congregation's Cantorial Soloist.
While working as the congregation's Cantorial Soloist Jacqueline was accepted into the School of Sacred Music/Hebrew Union College in 2003 and was invested as a Cantor in 2007. Another changed occurred in 2005, when the Congregation of Liberal Judaism changed its name to the Congregation of Reform Judaism.
The move was made to further clarify the temple's mission and reflect its f
ocus on Reform Judaism. At the time, CRJ's membership peaked with more than 700 families. To this day, CRJ continues to be one of the largest, most dynamic and vibrant centers for Jewish life in Central Florida.
Mon, December 5 2022
11 Kislev 5783
Today's Calendar
---
Upcoming Programs & Events
---
This week's Torah portion is

Parashat Vayishlach
Erev Hanukkah
View Calendar
Mon, December 5 2022 11 Kislev 5783